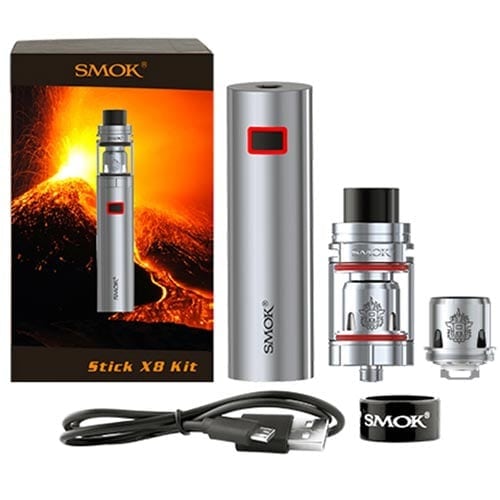 Stick X8 Kit by Smok
$49.99 – $54.99
The Smoktech Stick X8 is a kit of 24.5 mm diameter and 144 mm high. It consists of a built-in 3000 mAh battery and a Smoktech X-Baby TFV8 atomizer with a capacity of 4 ml and works with TFV8 X-Baby M2 and X4 Core resistors.
Description
Additional information
Reviews (0)
Note
Description
Stick X8 Kit by Smok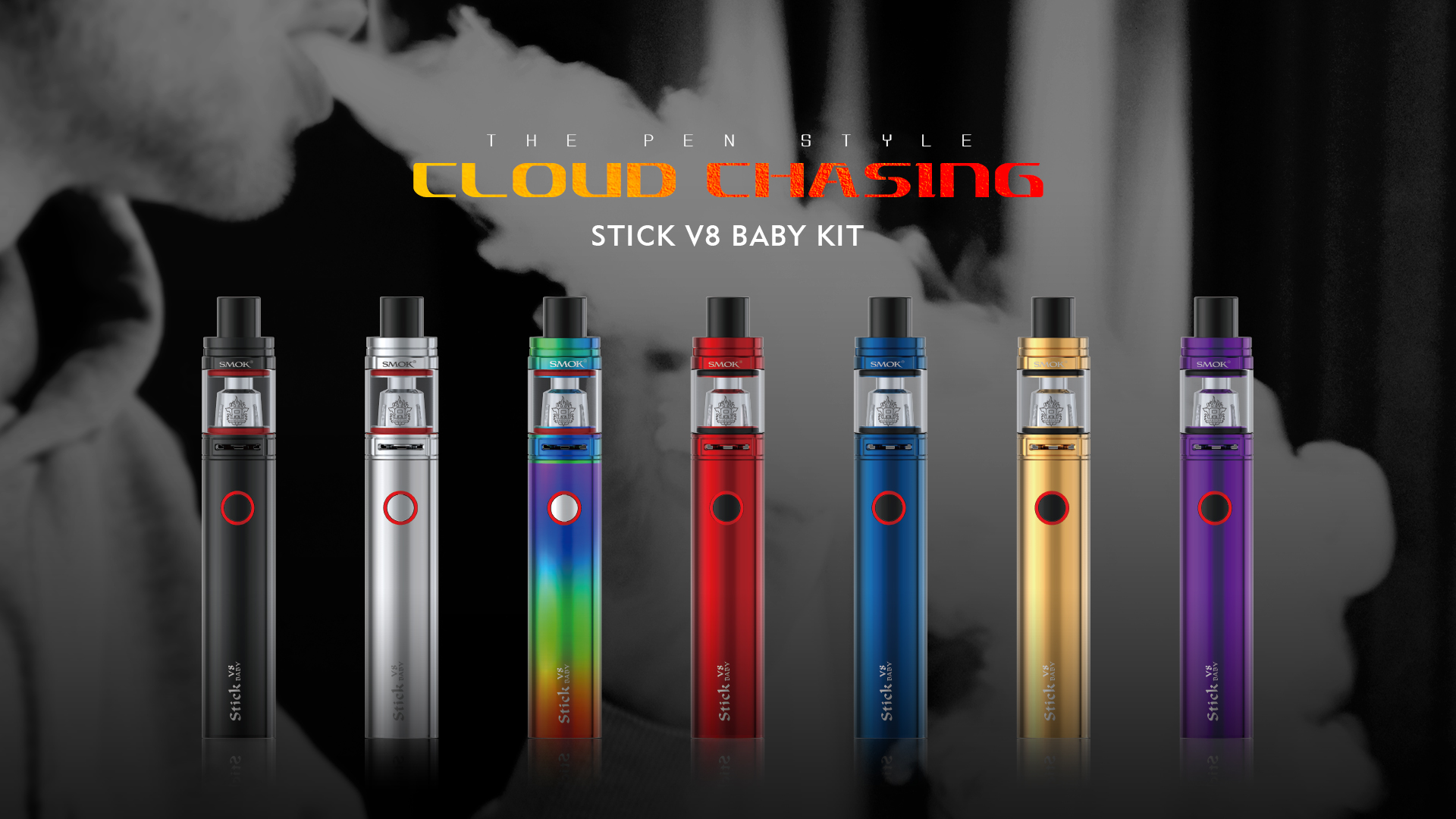 The Smoktech Stick X8 kit is 24.5 mm in diameter and is 144 mm high. It is composed of a battery of 3000 mAh and a atomiser of a capacity of 4 ml.
The Smoktech Stick X8 battery is equipped with a powerful built-in battery of 3000mAh which enjoys a long battery life. The Stick X8 also has a battery level indicator in the form of LED. It flashes 4 times at each puff and 15 times when the battery voltage is less than 3.3V, which means it needs to be recharged.
The Stick X8 battery is equipped with several protections for optimal use. It is protected against weak resistances, short circuits, low voltage. It also equipped with an 8-second system before an automatic shutdown.
The Stick X8 kit works with the TFV8 X-Baby Clearomizer which offers thick clouds and a very good rendering of flavors. The airflow is adjustable via the ring located above the tank. This atomizer works with the TFV8 X-Baby M2 and TFV8 X-Baby X4 Core resistors which offer a very good rendering of flavors.
To fill the e-liquid clearomizer, you must first hold the tank with one hand and on the other you must turn the top cap, then the hole allowing to put e-liquid will be visible then to close it turn the top cap.
Specifications of the Smoktech Stick X8 kit
Height: 144 mm
Diameter: 24,5 mm
Weight: 147 g
Material: Stainless steel
Battery: Built-in
Capacity: 3000mAh
Capacity: 4 ml
Temperature Control: No
Resistance min. : 0.15ohm
Drip tip: Owner
Reservoir: Pyrex
Connector: 510
Additional information
| | |
| --- | --- |
| Weight | N/A |
| Dimensions | N/A |
| Colors | Acier inoxidable, black, Blue, Or, Red |
VAPING ET GROSSESSE
Ce produit n'est pas conseillé aux femmes enceintes. Bien que les produits de vapotage contiennent moins de produits chimiques nocifs que les cigarettes, ils peuvent toujours contenir de la nicotine. Discutez avec votre professionnel de la santé de vos options pour arrêter de fumer pendant la grossesse.
ÉTIQUETAGE
Les illustrations et images présentes sur cette page produit ne sont pas contractuelles, l'apparence des produits présentés peut varier.
Les commandes canadiennes ne sont pas expédiées avec la boîte extérieure illustrée et les illustrations peuvent être modifiées pour la conformité S5.
POD PRÉ-REMPLIE
Le jeudi 6 février 2020, les États-Unis ont interdit les cigarettes électroniques à cartouche aromatisée (ENDS) (autres que le tabac ou le menthol). En outre, les États-Unis ont également relevé à 21 ans l'âge d'achat des produits du tabac. En conclusion, aucun envoi contenant des POD pré-remplies ne sera envoyé aux États-Unis.