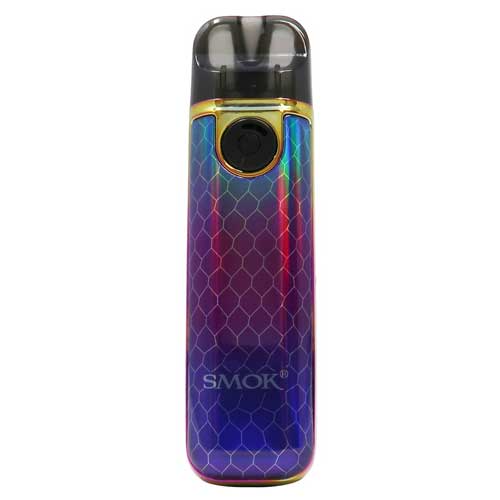 Novo 4 Mini Open Pod Kit by Smok
$39.99
The NOVO series has moved into a higher gear with its latest SMOK NOVO 4 POD KIT CRC.
Description
Additional information
Reviews (0)
Note
Questions & Answers
Description
The NOVO series has moved into a higher gear with its latest SMOK NOVO 4 POD KIT CRC. It's slightly bigger than its previous version but that's for a good reason, powered by a 900mAh built-in battery, it features a max power output of 20W, bringing a smooth and rich taste. Also, the introduction of a new airflow control ring, means that the SMOK NOVO 4 POD KIT CRC is the first to have any kind of airflow adjustability. Another new feature is that it has replaceable coils utilizing a new leak-proof technology to maximize the use of juice and minimize juice leaks.
The NOVO 4 uses a new LP1 coil family, SMOK LP1 REPLACEMENT COIL (5 PACK), with a 0.8 Ohm LP1 Meshed coil (best at 12W) included in the kit, for a soft and mellow flavor.
Specifications
SMOK NOVO 4 MINI KIT CRC
| | |
| --- | --- |
| Battery capacity | 900mAh |
| Activation | Inhalation-activated |
| Size | 91.6×24.5×16.0mm |
| Weight | 48g |
| Charging | USB-C |
| Pod capacity | 2mL |
| Coil type | Replaceable |
Additional information
| | |
| --- | --- |
| Weight | 0.185 kg |
| Dimensions | 14 × 13 × 5 cm |
| Colors | Fluid 7 Color, Green Blue, Rasta Green, Red Stabwood, Silver Red, 7 Colors, Black, Silver Black, White |
---
Only logged in customers who have purchased this product may leave a review.
AGE RESTRICTION
You must be 18 or of legal age in your jurisdiction. Provinces and territories have various provisions to regulate electronic cigarettes and other vaping products. More info here.
VAPING AND PREGNANCY
This product is not recommended for pregnant women. Although vaping products contain fewer harmful chemicals than cigarettes, they can still contain nicotine. Talk to your healthcare professional about your options for quitting smoking during pregnancy.
ÉTIQUETAGE
The illustrations and images on this product page are not contractual, the appearance of the products presented may vary.
Canadian orders do not ship with the outer box shown and illustrations may be modified for S5 compliance.
PRE-FILLED POD
On Thursday, February 6, 2020, the United States banned Flavored Cartridge Electronic Cigarettes (ENDS) (other than tobacco or menthol). In addition, the United States has also raised the age for purchasing tobacco products to 21. In conclusion, no shipment containing pre-filled PODs will be sent to the United States.
There are no questions yet. Be the first to ask a question about this product.