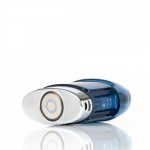 Lyra Pod System Kit 1000mAh by Lost Vape
$39.99
Lyra, a user-friendly refillable pod system is powered by a 1000 mAh battery and operates between 10 and 20 watts.
Description
Additional information
Reviews (0)
Note
Description
Lost Vape Lyra Kit is a more user-friendly e-cigarette designed and manufactured by Lost Vape Ltd. With a simple and unique design, Lost Vape Lyra kit makes it more convenient for you. Powered by a 1000mAh battery and operates between 10 and 20 watts. The pods use the unique pinch and pull drip tip technology and feature a smart design that makes filling as well as coil replacement easy. This light and portable device will bring you constant surprise. Lyra, the perfect fit for you. Press the button 3 times in 2 seconds will allow you to cycle through three different power levels, giving you the ability to enjoy your clouds and nicotine hit. Comes with two exclusive coils, Big e-liquid window, unique design for easy removal of the cap. 10 colors to choose from.
Parameters
Size: 96.3mm by 30.8mm by 15.8mm
Frame: Metal
Pod: PCTG
Battery: Built-in 1000mAh Battery
Maximum Wattage Output: 20W
E-juice capacity: 2mL
Coil: Lyra mesh 0.6ohm coil(max: 20W), Lyra 1.2ohm regular MTL coil(max: 10W)
Replaceable coils: Yes
Protections: Short-Circuit/ Weak Battery/ Temperature /Low/High Resistance Protections
Drip Tip: MTL Delrin Drip Tip
Charging: MicroUSB Port
Lost Vape Lyra Kit comes with
1×Lyra device
1×0.6Ω mesh coil for DL vaping
1×1.2Ω regular coil for MTL vaping
1×USB cable
1×Warranty card
1×User Manual
1×Lyra Lanyard
Additional information
| | |
| --- | --- |
| Weight | 0.175 kg |
| Dimensions | 10 × 12 × 8 cm |
| Colors | Black (Leather), Rainbow (Resin), Silver (Leather), Silver (Resin), Black (Resin), Blue (Resin), Green (Resin) |
VAPING AND PREGNANCY
This product is not advised for pregnant woman. While vaping products contain fewer harmful chemicals than cigarettes, they may still contain nicotine. Talk to your health care provider about your options of quitting nicotine during pregnancy.
LABELING
The illustrations and images on this page product are not contractual, the appearance of the products presented may vary.
Canadian orders do not ship with exterior box pictured and artwork may be altered for S5 compliance.
PRE-FILED POD
On Thursday February 6, 2020, the United States banned flavored cartridge electronic cigarettes (ENDS) (other than tobacco or menthol). In addition, the United States has also raised the purchase age for tobacco products to 21 years. In conclusion, no shipments containing pre-filled pods will be sent to the United States.