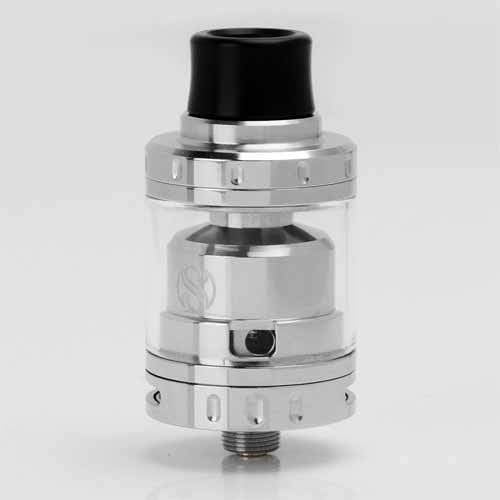 Merlin Mini RTA by Augvape
$49.90
Introducing the small and compact Merlin Mini RTA by Augvape. Perfect for flavour hunters, this RTA has the option of 2 decks; single coil build and dual coil build. (The single coil build deck is pre-installed.)
Description
Additional information
Reviews (0)
Note
Description
Merlin Mini RTA by Augvape
From Augvape comes the Merlin Mini RTA. The Merlin Mini provides excellent flexibility by including both a single and dual coil build decks. Expanding off of the original Merlin RTA platform, the Merlin Mini focuses on extensive flavor oriented output, including three internal airflow settings adjusted through the innovative threaded airflow condenser system.
The single coil build deck feature a two post design with a single 2mm by 2mm terminal integrated within each post. With that, the single build deck has independent wicking ports with interchangeable airflow systems for a mouth to lung or more airflow friendly vaping experience.
The dual coil build features two 2mm by 2.5mm terminals integrated into each post for a more vapor-oriented production. On a 24mm diameter, the Merlin Mini RTA holds 2ml of e-liquid with threaded top-fill system.
Specifications:
24*42.3 mm
Capacity: 2 ML
304 Stainless Steel
Come With 2 pcs 18mm Decks
Single Coil Deck Pre-installed
2*2 mm Squared Post Holes
Single 4.5 mm Internal Air-holes
Come With 2mm & 1.5mm Airflow Hole Inserts
3*4 mm Juice Holes
Dual Coil Deck
Velocity Style
2*2.5 mm Post Holes
Dual 3*5 mm Squared Air-holes
3 mm Diameter Juice Holes
Peek Insulator
Gold Plated Brass Contact
Includes:
1 x Merlin Mini RTA
1 x Single coil deck
1 x Dual coil deck
1 x Replacement glass
Extra o-ring and screw pack
Additional information
| | |
| --- | --- |
| Weight | N/A |
| Dimensions | N/A |
| Colors | Acier inoxidable |
VAPING AND PREGNANCY
This product is not advised for pregnant woman. While vaping products contain fewer harmful chemicals than cigarettes, they may still contain nicotine. Talk to your health care provider about your options of quitting nicotine during pregnancy.
LABELING
The illustrations and images on this page product are not contractual, the appearance of the products presented may vary.
Canadian orders do not ship with exterior box pictured and artwork may be altered for S5 compliance.
PRE-FILED POD
On Thursday February 6, 2020, the United States banned flavored cartridge electronic cigarettes (ENDS) (other than tobacco or menthol). In addition, the United States has also raised the purchase age for tobacco products to 21 years. In conclusion, no shipments containing pre-filled pods will be sent to the United States.