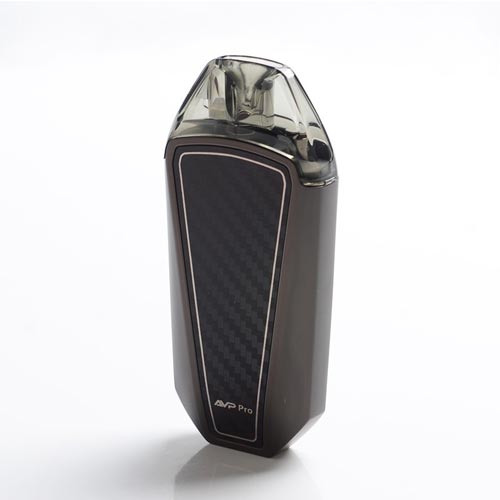 AVP Pro 1200mAh Pod Kit by Aspire
$39.99
The AVP Pro is here. Refined and improved to advance the world-class styling and performance of the original AVP, with sleek and eye-catching looks, teamed with precision technical improvements.
Description
Additional information
Reviews (0)
Note
Description
Product introduction
The Aspire AVP Pro Kit has been refined and improved with advanced world-class styling and performance. It is sleek and has incredible eye-catching looks that are teamed up with impressive technical improvements. The AVP Pro battery capacity has been increased to 1200mAh and is designed for long-distance travel. Charge the AVP Pro via the Type-C charging port. The maximum charge current can reach up to 2A. An LED light indicates the current battery status (green, blue and red). Moreover, the AVP Pro uses Aspire self-developed ASP chipset which comes with all the safety features that Aspire is famous for. The AVP Pro can be adjusted to 4 different wattage settings. Just press the button twice to change the wattage. The output wattage can be set to 10 watts, 12 watts, 14 watts, and 16 watts provide users with more choices and higher power output. As for the pod of the AVP Pro, the capacity has also increased to 4.0ml. And has a convenient underfill leak-free filling system. AVP Pro uses a pull-and-push coil replacement system. Pull the coil out from the bottom of the pod, then replace it with a fresh unit. You can change the coil even when there is an e-liquid inside the pod. Aspire AVP Pro Pod Kit, a great experience for e-cigarettes!
Parameters
Size: 96mm(Length) * 44mm(Width) * 17mm(Thickness)
Battery Capacity: Built-in 1200mAh
Pod Capacity: 4.0ml/2.0ml(TPD)
Filling: bottom leak-free filling
Coil Resistance: 0.65ohm/1.15ohm
Coil Material: Kanthal AF
Charging Port: Type-C
Four wattage output options: 10W(Red), 12W(Blue), 14W(Green), 16W(White)
Colors: Black, Gun Metal, Rainbow, White
Features
Strong streamline looking
Integrated 1200mAh Rechargeable Battery
Type-C charging port with 2A charging current
4 different wattage settings
Strong pod fitment magnets
Pull-and-push coil replacement system, easy to change
Adjust the slider to control airflow, without removing the pod
Convenient bottom leak-free filling
Multiple Protections
Aspire AVP Pro Pod Kit 1200mAh comes with
1* AVP Pro Battery Unit (1200 mAh)
1* AVP Pro Pod (4.0 ml)
2* AVP Pro Coils (1* Mesh Coil 0.65ohm, 1* Standard Coil 1.15ohm)
1* Type-C Cable
1* User Manual
1* Warranty Card
Additional information
| | |
| --- | --- |
| Weight | 0.365 kg |
| Dimensions | 17 × 13 × 8 cm |
| Colors | Black, Gunmetal, Rainbow, White |
VAPING AND PREGNANCY
This product is not advised for pregnant woman. While vaping products contain fewer harmful chemicals than cigarettes, they may still contain nicotine. Talk to your health care provider about your options of quitting nicotine during pregnancy.
LABELING
The illustrations and images on this page product are not contractual, the appearance of the products presented may vary.
Canadian orders do not ship with exterior box pictured and artwork may be altered for S5 compliance.
PRE-FILED POD
On Thursday February 6, 2020, the United States banned flavored cartridge electronic cigarettes (ENDS) (other than tobacco or menthol). In addition, the United States has also raised the purchase age for tobacco products to 21 years. In conclusion, no shipments containing pre-filled pods will be sent to the United States.