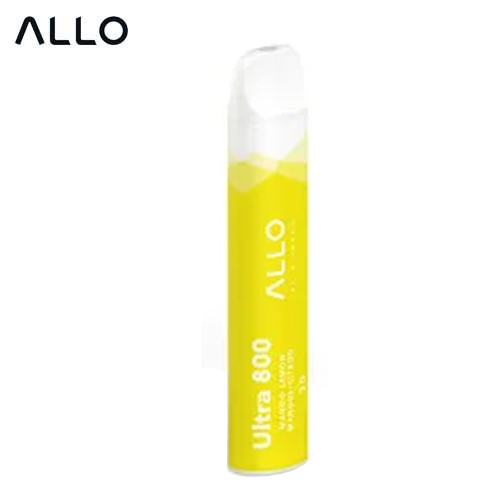 Mango Lemon Ultra Disposable Vape (1/PCK) by Allo
$12.99
Mango Lemon is a sweet mango nectar with sour lemonade base and infused with juicy lemon.
Description
Additional information
Reviews (0)
Note
Description
Introducing the Allo Ultra Disposable, an all-in-one ready to vape nicotine delivery system intuitively designed to be disposed of once empty. Featuring a lower price than a Puff Bar, lightweight, and compact design with over-inhale protection to guarantee to deliver smooth and flavorful draws with ease.
Real ingredients, Make the difference.  At Allo, we are continuously working on new flavors to help you make the switch easier.
Mango Lemon is a sweet mango nectar with sour lemonade base and infused with juicy lemon.
Sold 1 per pack
Key Features
Longer lasting disposable device with 800+ puffs
Xtra Puffs, Xtra Volume, Xtra Flavour
No mess and no fuss
Products are VPLPR (Vaping Products Labelling and Packaging Regulations) compliant
Device Specifications:
Puffs: 800+
Liquid Volume: 3.8 mL
Battery: 550 mAh
Dimentions 100x23x15 mm Portable
Juice Specifications:
Ratio PG/VG : 50/50
Nicotine Strenght : 20mg/mL, 50mg/mL
Additional information
| | |
| --- | --- |
| Weight | 0.035 kg |
| Dimensions | 1 × 1 × 12 cm |
| Nicotine level | 20 mg/mL |
VAPING ET GROSSESSE
Ce produit n'est pas conseillé aux femmes enceintes. Bien que les produits de vapotage contiennent moins de produits chimiques nocifs que les cigarettes, ils peuvent toujours contenir de la nicotine. Discutez avec votre professionnel de la santé de vos options pour arrêter de fumer pendant la grossesse.
ÉTIQUETAGE
Les illustrations et images présentes sur cette page produit ne sont pas contractuelles, l'apparence des produits présentés peut varier.
Les commandes canadiennes ne sont pas expédiées avec la boîte extérieure illustrée et les illustrations peuvent être modifiées pour la conformité S5.
POD PRÉ-REMPLIE
Le jeudi 6 février 2020, les États-Unis ont interdit les cigarettes électroniques à cartouche aromatisée (ENDS) (autres que le tabac ou le menthol). En outre, les États-Unis ont également relevé à 21 ans l'âge d'achat des produits du tabac. En conclusion, aucun envoi contenant des POD pré-remplies ne sera envoyé aux États-Unis.