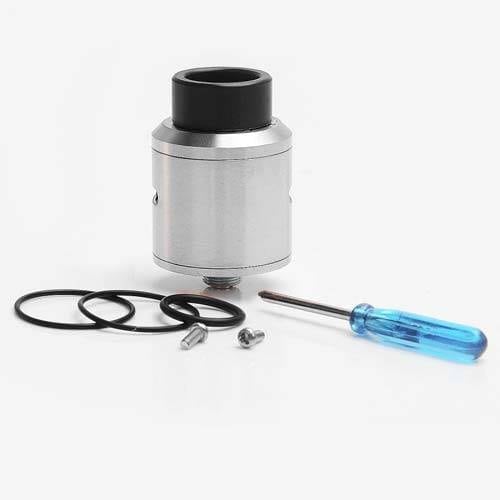 Goon V1.5 by 528 Customs
$99.99
Goon, a name that resonates amongst vapers in the small world of rebuidable drippring atomizers.
Description
Additional information
Reviews (0)
Note
Description
Goon V1.5 designed in the purest spirit US is indeed a monster of efficiency since it allows to deliver a vapor loaded with aroma and diabolically dense. If you're looking for high-end equipment at a very affordable price, the Goon 1.5 is for you!
A fabulous deck
The Goon V1.5 has a well thought-out mounting plate and with which you will be able to experiment with assemblies as diverse as varied. The clamps allow you to effectively block the resistive wire of your choice, and the thickest and most complex alloys will pass without any problem with a perfect hold.
You will therefore have the leisure to make coils of large section and very wide in order to enjoy a large heating surface and enjoy your best e-liquids at best.
Conductivity will also be at the rendezvous since the stud 510 of the dripper is in gold plated 24k.
Accurate and modular air intakes
If the flavors are unquestionably to go with the Goon V1.5 by 528 Custom Vapes, the volume of steam will be in fact synonymous of course since the dripper has large air intakes. Ideal for direct inhalation!
The cyclope-type slots are closed or opened by simple rotation of the dripper body and it is possible to vaporize in single coil with a single airflow.
The delrin drip-tip will assure you an excellent maintenance in the mouth, comfortable and soft, while preserving you from the heat and possible burns. Its large mouthpiece perfectly complements the Goon V1.5.
NB: It is not possible to mount a conventional drip-tip 510 on this RDA.
The possible bottom-feeder
The Goon V1.5 by 528 Custom Vapes has the particularity of being usable in bottom-feeder thanks to the connector provided. This pin 510 pierced in its center replaces the original one if you wish and it will allow to pass the e-liquid coming straight from a vial embedded in a box if own this type of material.
The principle is very simple and it allows to enjoy the purity of the dripper without having to reload in drops manually with a separate bottle.
In summary, the Goon V1.5 by 528 Custom Vapes is a dripper in capacity to support the comparison with number of RDA high-end that it is its quality of manufacture or the overall rendering between aromatic rendering and volume of steam . For those who like big editors, it will be fun to use it on powerful boxes or on mechanical mods, or even bottom-feeder, while the beginners will discover with joy a simple atomiser to be mounted even in dual coil.
Additional information
| | |
| --- | --- |
| Weight | N/A |
| Dimensions | N/A |
| Color | Stainless Steel |
VAPING ET GROSSESSE
Ce produit n'est pas conseillé aux femmes enceintes. Bien que les produits de vapotage contiennent moins de produits chimiques nocifs que les cigarettes, ils peuvent toujours contenir de la nicotine. Discutez avec votre professionnel de la santé de vos options pour arrêter de fumer pendant la grossesse.
ÉTIQUETAGE
Les illustrations et images présentes sur cette page produit ne sont pas contractuelles, l'apparence des produits présentés peut varier.
Les commandes canadiennes ne sont pas expédiées avec la boîte extérieure illustrée et les illustrations peuvent être modifiées pour la conformité S5.
POD PRÉ-REMPLIE
Le jeudi 6 février 2020, les États-Unis ont interdit les cigarettes électroniques à cartouche aromatisée (ENDS) (autres que le tabac ou le menthol). En outre, les États-Unis ont également relevé à 21 ans l'âge d'achat des produits du tabac. En conclusion, aucun envoi contenant des POD pré-remplies ne sera envoyé aux États-Unis.