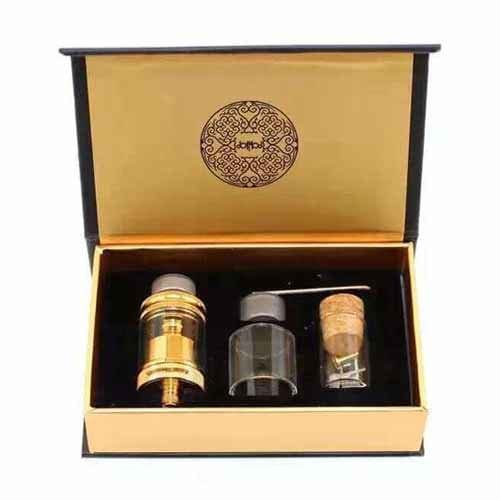 Petri RTA 22mm by Dotmod
$92.99
It has been a longtime of waiting, it is at last here, the first RTA Tank by Dotmod has finally become a reality! The Dotmod RTA Tank is the new jewel which we recognise as the know-how from the American Modder. 22mm in diameter, a capacity tank of 3ml, a Gold Plated or 24K Bottom coil plate, the Dotmod RTA Tank has beautiful assets for a worthy vape from the celebrated Petri Dripper. A top luxurious RTA.
The Dotmod RTA Tank is made by Dotmod.
Not recommended for Hybrid mods.
Description
Additional information
Reviews (0)
Description
DOTMOD PETRI RTA 22 mm TANK

Dotmod have finally realized the Dotmod RTA Tank. Very much awaited by the fans of the American Modder, the Dotmod RTA Tank has class, unique quality fabrication from this brand. This jewel atomiser disposes of commodities of the moment such as the filling from the top, an airflow entirely adjustable but also, and most of all the unique construction plate. The architecture of the plate is original and proves the construction in dual-coils. The plate is equally Gold Plated ot 24 Carat to ameliorate the conductivity of the creations.

Dual coil in 24K
The construction plate of the Dotmod RTA Tank challenges alot of vertical fixations to the coil. Proved for essentially dual coils, the fiber of the two coils pass by the same canal for the nourishment of equitable e-liquid. Filled with luxury, the Dotmod RTA Tank plate is entirely Gold Plated or 24 Carat to ameliorate the conductivity of creations. Note, to access the construction plate, it is necessary to lightly unscrew the connection pin.

The Dotmod Style
It is by drip tip that we recognize the Dotmod Style. This time, it unscrews to leave place for the entry of e-liquid. The Dotmod RTA Tank possesses of a 3ml Pyrex reservoir. Another new for Dotmod, the double airflow is serrated for precise and agreeable settings.
Jewel
All jewelled, this has been always the case by Dotmod which supplies a beautiful box of accessories for the Dotmod RTA Tank in a gorgeous glass vial. You can find replacement screws and coils ready to be constructed.
Features of the Dotmod RTA Tank:
| | | | |
| --- | --- | --- | --- |
| Height with drip-tip | 48 mm | Diameter | 22 mm |
| Tank | Pyrex | Capacity | 3 ml |
| Type of Plate | Bottom coil | Type of Construction | Dual-coils |
The Dotmod RTA Tank is made by Dotmod.
The Dotmod RTA Tank is delivered with:
1 Dotmod RTA Tank
1 Supplementary Pyrex Tank
1 Supplementary Drip Tip
1 Replacement Joints Kit
1 Supplementary Set of Screws
1 Supplementary Gold Plated Connection Pin
2 Coils
1 Allen Key
1 Authentication Certificate
Additional information
| | |
| --- | --- |
| Weight | 0.130 kg |
| Dimensions | 12 × 4 × 8 cm |