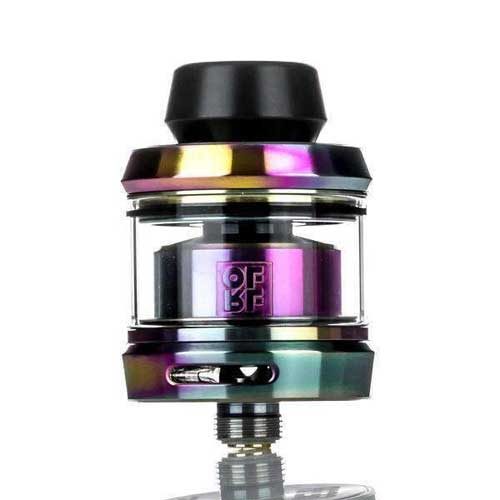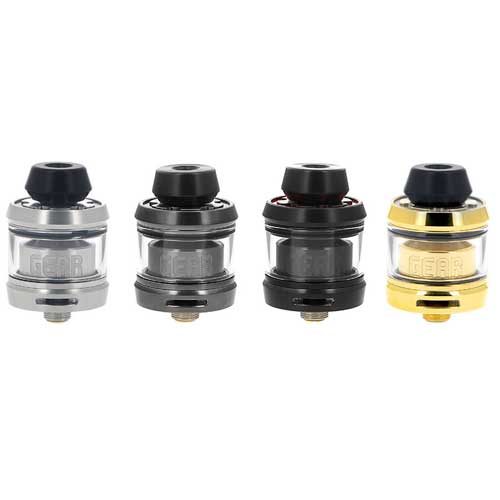 Atomiseur Gear RTA 24mm by OFRF
$43.99
A rebuildable atomizer perfectly calibrated!
Description
Additional information
Reviews (0)
Description
OFRF is now present on the vape market. After a few months of research and development, the young company intends to challenge the biggest with its first rebuildable atomizer on sale to the public, the RTA Gear 24mm!
The least we can say is that this RTA mini format imposes ! At first glance, we even think we're dealing with an atomizer of a great brand, but if this Gear RTA does not have the status, it has the specificities! Thus, a high-flying design will put everyone in the world. 'agreement with exemplary finishes such as a pine 24k gold, two driptip 510 very nice, but also a beautiful engraving on the top of the atomizer.
Le look is successful and the very small format of this atomizer comes to support a design worked to make this RTA an excellent product in any point.OFRF has clearly targeted its audience, since advanced engineering has been implemented to provide you with an atomizer easy to live daily and will last in time. Its 4-slot single coil tray will prevent meningitis when installing your coils, since all positions will be possible!
The purpose of any atomizer, however, lies in the sensation of use, and here she is excellent! The rounded bell and millimeter-sized airflows and a short chimney make this RTA a marvel when it comes to tasting the best juices. For once, the flavor is not at the expense of the amount of steam , and although it is small and dedicated to the single coil, this atomizer will produce a volume of dense and dense vapor through a slightly restrictive air draw. What to satisfy all your requirements!
A beautiful design and a successful design!
A nice surprise so unpacking this atomizer that surprises with its apparent quality in view of its price, with an extremely robust steel design and breathtaking finishes, as the magnificent engraving on the top of the atomizer let it predict!
The first sensation is excellent and perfect finishes, down to the smallest detail! OFRF cares about his image and it is to his credit. The pin 510 in 24k gold is part of this logic of beautiful finishes at affordable prices, while promising optimum conductivity and a high quality energy transfer. It is also by the insulation in peek of this pin 510, that this Gear RTA 24mm stands out, because this one comes directly from Germany! Another guarantee of quality.
If OFRF seems to care about the ergonomics and the characteristics of its material, the vice is pushed even further, since it is not one, but two driptip which will be present in the packaging of your atomizer RTA Gear 24mm by OFRF! A first in translucent polycarbonate with a nice opening, and a second in Delrin more classic, but which prevents overheating of the lips during use. Beautiful features, but also a warped design that you will not find on all atomizers!
Finally, the strength of the design of this RTA is in its very small size. Its diameter of 24mm makes it a versatile RTA that will fit on most boxes and batteries on the market, and its height of 24.6mm without driptip supports the mini side of this atomizer.
Good news for who wants to vapote in all discretion.Despite its small size, the capacity in e liquid is very reasonable, with a pyrex tank of 2ml. And if that's not enough, OFRF delivers a second bulb-sized pyrex with its Gear RTA 24mm atomizer, which will allow you to increase the capacity to 3.5ml!
The ATRF Gear RTA 24mm atomizer
An easy-to-live board!
All the qualities of this Gear RTA 24mm atomizer are not visible at first glance, and an internal design can not be improvised.
OFRF has therefore made the choice to really work on its tray, and this for the sole purpose of proposing a qualitative product, easy to live with a good flavor.
At the opening, a tray is offered to you with 2 posts, and 4 locations. But why 4? Simply to make your life easier, indeed, nothing is more annoying than a coiled coil in the wrong direction which is therefore found with legs that do not fall in front of the slots provided for this purpose. Here, whatever the direction of your coil, you will always find a solution to position it easily and to maintain it efficiently thanks to the large flat impression screws.
The bell is curved for a maximum concentration of flavor, and therefore a maximum This atomizer is dedicated to the simple coil in direct inhalation, the arrivals of liquid had to be consequent, and you will have the pleasure to discover with the use that the large places for the cotton envisaged by OFRF allow not only a easy placement of a good amount of cotton, but also allow an optimal supply of e liquid even with relatively low montages!
The finish of the tray is, unsurprisingly, perfect, and you will not risk degrade at the first use. OFRF does not know the programmed obsolescence, and its Gear RTA 24mm atomizer is designed to last!
The Rebuildable Tray Gear RTA 24mm Tray by OFRF
Calibrated airflows!
OFRF has gone far in designing its 24mm RTA Gear, so there was no question of stopping there!
The airflows are thus perfectly adapted to a slightly restrictive aerial work, and the accent has been put on this point.From the cyclops eye format, the two airflows present on both sides of this atomizer are millimeter! So you can adjust with a surgical precision the opening of your air intake, for a vape perfectly adapted to your assembly!
The airflow is one of the strong points of this atomizer which is one of it all alone! The air will thus arrive just below your resistance, and will reach your mouth very quickly thanks to a short design. The promise of a slightly warm, dense and tasty steam!

Airflows of the Atomizer Gear RTA 24mm by OFRF
Un remplissage efficace !
An efficient filling Like the rest of its atomizer, the filling of the Gear RTA 24mm by OFRF will be a happiness to use in everyday life.
You will just have to unscrew the top-cap to reveal two large openings, which will allow you to use any vial of e liquid to fill your new friend. On a daily basis a design designed to prevent leaks is very significant, and the 2ml capacity with the basic pyrex will ensure you long vaping sessions!
NB: It is advisable to close the air intake during filling to avoid any overpressure phenomenon that may cause leaks.
The filling windows of the Gear RTA 24mm atomizer by OFRF
The contents of the box
A 24mm RTA Gear Atomizer by OFRF
Two driptip 510
Pre-formed resistance in Ni80 fused clapton
A cotton bag
An additional pyrex bulb tank of 3.5ml
A screwdriver
A bag of spare parts
A user manual
The Gear RTA 24mm atomizer is manufactured by OFRF.
Features
Mounting type: Single coil

Atomizer type: Bottom-coil

Diameter: 24mm

Height: 24.6mm

Material: Stainless steel

Tank: Pyrex

Capacity: From 2 to 4ml

Drip-tip: 510

Connector: 510 gold plated
Additional information
| | |
| --- | --- |
| Weight | 0.150 kg |
| Dimensions | 5 × 8 × 8 cm |
| Colors | black, Gold, Gun metal, Rainbow, Stainless Steel |