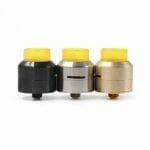 Goon LP RDA by 528 Customs
$99.99
The Goon LP by 528 Custom Vapes is a dripper and it is a new version of the saga Goon that had enchanted many fans of this kind of material.
The innovations observed bring in any case a better rda in terms of functionality as overall rendering since it is more compact than the previous opus, hence the name LP for Low Profile. The reduced room will thus sublimate the aromas for your greatest happiness.The Goon's mounting plates quickly became new alternatives to the velocity decks that became a standard on drippers in 2015.
Description
Additional information
Reviews (0)
Description
The Goon LP by 528 Custom Vapes uses the clamp concept to keep the wires in place but in a different configuration since these parts are placed laterally and not on the upper part of the connection pads.
Now with two pairs of two tongues, you can pair your dripper with even more complex assemblies and tightened leg clamps to perfection.
The juice well is sufficiently deep to receive a good amount of fiber and liquid meaning less dripping.
The Goon LP by 528 Custom Vapes is a very versatile dripper since it magnifies the flavors without neglecting the quantity of vapor delivered. The airflow windows in the shape of cyclops placed in front of the resistors are adjusted as necessary since it is possible to open them or close them on command by simple rotation.
The Goon LP by 528 Custom Vapes will ensure you vaporize with the draw that suits you best according to your habits and preferences.
But the Goon LP by 528 Custom Vapes is more than just a dripper since it offers incredible versatility.
You will be able to use it in bottom-feeder mods thanks to the pierced connection pin provided if you are equipped with a box authorizing this use. You will press the vial on your mod to bring the e-liquid up to the resistances of the dripper via the hole in the connector 510. The advantage of the system is that you do not have to carry out tedious manipulations with a bottle of juice to re-wick frequently.
Your dripper also comes with a top-cap ultem of the most beautiful effect to completely change the look, for a less industrial aspect than the original.
Additional information
| | |
| --- | --- |
| Weight | N/A |
| Dimensions | N/A |
| Color | Stainless Steel |